TOURING
Next-level leisure and luxury
Make relaxation the only item on your agenda. With the GTX, a day of discovery out on the water couldn't be more indulgent. Experience comfort and convenience-in style!
REC LITE
Spark something special
Compact yet mighty, the lightweight Spark has just what you need to get the party started at a price that will float your boat. Steer your way to good times out on the waves.
RECREATION
Everything fun under the sun
Redefine summer fun and time spent with your favorite people out on the water. The GTI has the comfort and functionality you need for endless days of soaking up the rays-you'll be swimming in happiness.
PERFORMANCE
Packed with power
If you're looking for a brand new kick, you've come to right place. The Performance lineup offers incredible power, handling and control. Get ready to pump up the adrenaline.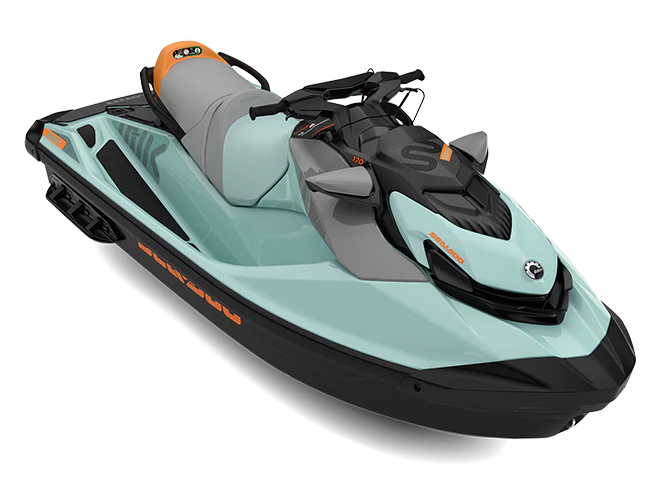 TOW SPORTS
SPORT FISHING
FishPro Scout • FishPro Sport
FishPro Trophy
ADVENTURE
Take your adventures further
A long-distance trip is the best way to create lasting memories. On the all-new Explorer Pro 170, you'll remember how comfy you were, and how much space you had to pack your favourite gear.
BUILT FOR ADVENTURE
WELCOME TO
YOUR SEA-DOO LIFE
The Sea-Doo standard means leading the industry with reliable, exciting performance, industry-defining innovation in order to enhance every minute you spend on the water. Your Velocity Powersports Charleston Sea-Doo Dealer can't wait to help you discover your Sea-Doo adventure.
SWITCH
A new way to live the Sea-Doo life. Fun, adaptable, and modern with never-before-seen value. The space of a pontoon with the attitude of a Sea-Doo PWC. That means plenty of room for friends and family to share in the thrills and excitement of every adventure. Stress doesn't deserve a place on the water. The simple, intuitive Switch handling is so second nature, it's like riding a bike. Easy to steer, dock, launch, and load.

Financing starting as low as 2.99% for 36 months, 2 years of coverage and 2 free PFDs with the purchase of any 2022 Sea-Doo PWC model.
Ends on May 31, 2023 Don't miss out on the fun Pre-order your all-new Sea-Doo today and get up to 2-year coverage!
Financing as low as 5.99% for 36 months †
Financing as low as 5.99% for 36 months †
Financing as low as 5.99% for 36 months †
Financing as low as 5.99% for 36 months †
Financing as low as 5.99% for 36 months †
Financing as low as 5.99% for 36 months †
Financing as low as 5.99% for 36 months †
Financing as low as 5.99% for 36 months †
Gift Card Request must be submitted before the test ride. One Gift Card per household and immediate family* per 365 days. Gift Card offer expires 30 days from the submission date, must be 21 or older with a valid U.S. Driver's License to qualify. The logos and other identifying marks attached are trademarks of and owned by each represented company and/or its affiliates. * The term "immediate family" includes spouses, siblings, parents, children, grandparents, and grandchildren, whether as "in-laws," or by current or past marriage(s), remarriage(s), adoption, co-habitation or other family extension, and any other persons residing at the same household whether or not related. Velocity Powersports Charleston reserves the right to refuse the gift card offer for anyone violating these terms.